Use this thread to submit your scores for the tournament.
You can also submit the INPs to MARP, just add the label "
T15
" in the replay description.
To check quickly which are the latest T15 uploads on MARP, you can use this link:
Code: Select all
http://replay.marpirc.net/index.cgi?mode=search&table=y&per_game=99&short=(shangon-jnr,blocken,kuniokunb,lrescue,wboy2,phoenixa)&desc=t15&sort=short&maxlines=600
Remove the string &desc=t15 from the URL to see also all scores not for tournament.
The string &sort=short will display results sorted by game name. Change it to &sort=date_rev if you want to see the newest scores at top, instead.
ALL YOU NEED FOR THIS TOURNAMENT
WolfMAME 0.177
Romsets: blocken, kuniokunb, lrescue, phoenix, phoenixa, renegade, shangon, wboy, wboy2
Samples for Lunar Rescue (optional, but, it's a little bit silent if you don't use them)
Countdown to end:
http://www.timeanddate.com/countdown/ge ... erif&csz=1
Ranking:
https://docs.google.com/spreadsheets/d/ ... sp=sharing
The ranking will be updated more or less once a day, in the days I can.
DELETE NVRAM BEFORE RECORDING!
Since this mistake keeps on happening too frequently, it's like we have to underline it again.
SUGGESTION (for Windows users): prepare a *.bat file for both playing/training, recording, playback; just like those you already find in the Mame folder (playback; record), you can modify those. In each of them, it is important that you have the parameter
If you ALWAYS use these batch files, you will never have to delete the NVRAM folder. Otherwise, first delete the NVRAM folder AND THEN start recording.
Here's some examples of what I mean. This must be the text written on the *.bat files.
Code: Select all
For playing:

mamearcade -nvram_directory NUL

For recording (in this example, Phoenix on Centuri set 1):

mamearcade phoenixa -record phoenixa.inp -nvram_directory NUL

To playback (change name accordingly to file you have):

mamearcade phoenixa -playback phoenixa.inp -nvram_directory NUL
With the latest MAME interface, you can already decide to record or playback from there without using a *.bat, BUT, if you simply double click on mamearcade.exe you don't give it the parameter of no NVRAM folder, and each time you play something, it will create NVRAM files. Hence why I insist. You don't want to waste time, right?

ABOUT GAMES
Game #1 - Phoenix (Centuri, set 1) [phoenixa]
Shooter, 1980 Amstar (Centuri license)
To play this clone, you also need the parent: Phoenix (Amstar) [phoenix]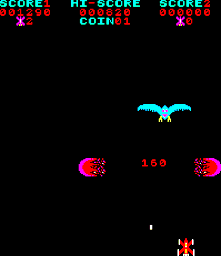 Game #2 - Wonder Boy (set 2, 315-5178) [wboy2]
Platform, 1986 Escape (SEGA license)
This is not the second chapter, it is a clone of the first chapter.
So, to play this clone, you also need the parent: Wonder Boy (set 1, 315-5177) [wboy]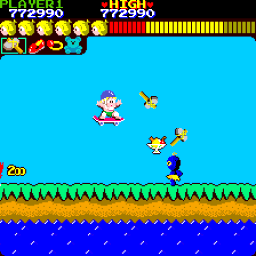 Game #3 - Lunar Rescue [lrescue]
Maze, 1979 Taito
This game has audio samples, which do not go in the same directory of roms.
Known bug: One free credit is awarded at first landing.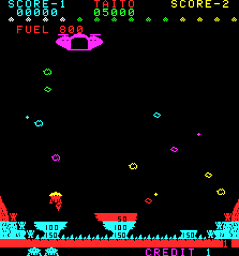 Game #4 - Nekketsu Kouha Kunio-kun (Japan bootleg) [kuniokunb]
Fighter 2.5D, 1986 Technos Japan (Taito America license)
To play this clone, you also need the parent: Renegade (US) [renegade]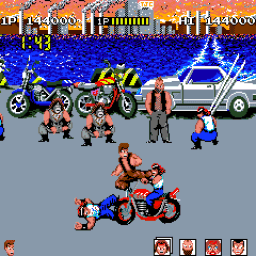 This is how Renegade looks, actually. Kunio-kun has different sprites, and you don't get to kiss the girl at the end.
Game #5 - Super Hang-On (sitdown/upright) (unprotected) [shangon]
Driving, 1987 SEGA
We're playing JUNIOR COURSE ONLY, so, if uploading to MARP, please submit your replays to shangon-jnr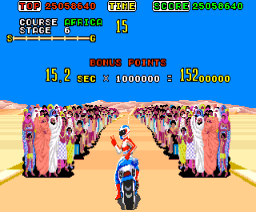 Game #6 - Blocken (Japan) [blocken]
Breakout, 1994 Visco / KID
Known bug: when finishing the fourth course, you get a cell testing screen instead of credits. (This won't influence the game experience, the definitive score can be read when ending last stage)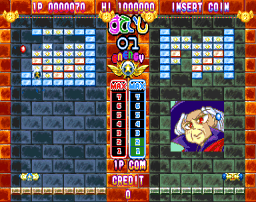 Since I generously

gave you a game that is totally in Japanese, even if you can understand everything by playing, I will shortly describe what is needed.
The match can end in three ways: a player loses his ball; a player gets crushed by advancing blocks; a player clears the field.
There are 4 courses. Course at the top, shortest. Course at the bottom, longest. The enemies and their pattern don't change, you only decide how many stages you want to play. Quite obvious then to state you should pick the 4th course, for more points.
The attack button is used to send lines of blocks to enemy. If you have MAX Energy, your ball will also be able to break all blocks in the way, for a short time.
RESUME OF RULES
-All games are to be played with
default MAME settings
. (Ask if you need help to set them properly if you changed them on playing)
-Keep average recording speed as near as possible to 100% (in other words: don't change it at all)
-For games
with no ending
(Phoenix, Lunar Rescue, Nekketsu Kouha Kunio-Kun), score considered will be what you reach at 2 hours of play, if the replay is longer. (Rule for this tournament only. 2 hours instead of another span of time is a personal choice)
-No macro, autofire, multiple buttons for same action, and all that stuff that is forbidden in MARP. We got enough cheating in the past, thank you
-First credit only
-
No recording can be uploaded 24 hours after you started to record it.
If this period is violated, then that person's score for that game will be changed to zero.
For any question, I'm here anytime.
Confirmation of a score for the tournament doesn't imply confirmation in MARP, and viceversa.
Have fun!